On Friday afternoon, I travelled west to
Newbury
(one of two places I could claim to be my furusato or old-home-town, but I'm not sure if you can have two -
Sunninghill
would be the other) for the funeral of Brian Roll who had been a friend of myself and family for about twenty five years. He had succumbed fairly swiftly to the final stages of pancreatic cancer at the age of 66. Memory Eternal!
That's the phrase commonly used in Eastern Orthodoxy when referring to someone who has died. But what exactly might one remember Brian for? He was born in Crystal Palace in 1940 and subsequently attended the
Beckenham School of Art
where he studied typography. Ten years later and he might just have got involved with Bowie! His early career was taken up doing book design for publishers such as Pan and Cassells. You can find a few mentions of a "Brian Roll designed dust cover" if you sift through the ABE books site or similar, but there are no images of his designs to see (I've now found one of his for
Spiegel the Cat
). However, as I learned during one of the eulogies on Friday, he was in part responsible for this: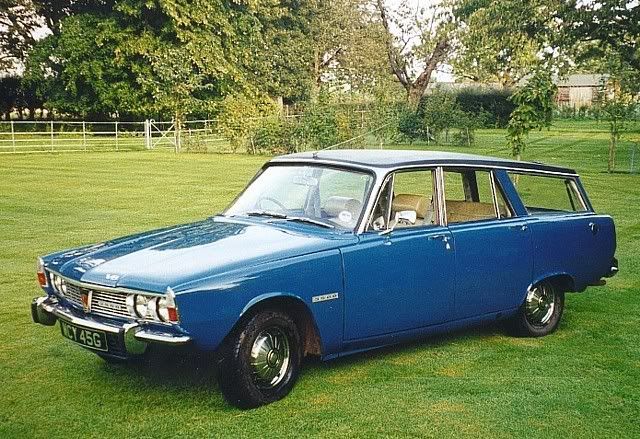 This being the
Rover Estate P6 or Estoura
. Brian had somehow ended up doing the design for car modifiers Panelcraft in Battersea. Not long after he went freelance, but along with many others of his generation, he never made the switch to computer-based design and gradually found his skills and ever more sidelined. He switched over to woodwork and other craft projects. A fair amount of the old house in Newbury, my mother's previous house at the end of this road and current one in Newington Green contain a number of Brian Roll features. Mostly his handiwork was distinguished by a painstaking attention to detail that I can remember exasperating my father occasionally as the labour costs never kept that low. But you could never find any fault with the work. All the joins were perfect and the paintwork exemplary. Although he didn't design it, he did construct the large bookcase that sits against the wall to my left and I can see how he's painstakingly carved the foot of it to sit just right against the wainscotting.
On Friday, my mother mentioned his somewhat tuneless whistling as he worked. His constantly good humour and genuine interest aside, I remember his pleasure at coming to London to do a few days work since it meant that we'd somehow feel obliged into taking him out for a curry and a better one than you generally find in West Berkshire. Not that we minded!
Crematorium services invariably remind me of Edward G. Robinson's assisted suicide in
Soylent Green
, all the more in this case for it being a
Humanist
service. Shortly before we went in,
a Lancaster bomber
passed overhead with a nod to his warbound childhood and, as we were treated to both Elgar's
Nimrod
and Vaughan Williams'
The Lark Ascending
inside, the windows displayed a flock of geese passing across the sky and a pair of flitting dragonflies. I momentarily suspected they were video screens. Amidst this excess of English bucolia, I wasn't quite sure whether to throw up or burst into tears.
A wake followed. People introduced themselves as from The Village. There was wine, but no whisky.