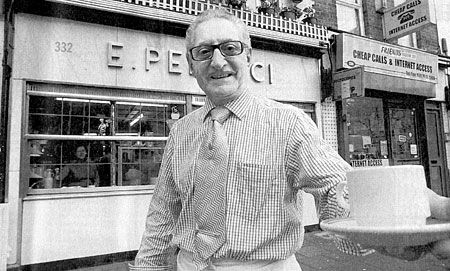 I was at a friend's house on Saturday evening and they mentioned the recent passing away of Nevio Pellicci, proprietor of the Pellicci family cafe at 332 Bethnal Green Road. The funeral took place on Friday and there were around 300 crowding out the church, singing his praises, saying their goodbyes, adjusting their eyes as the light dimmed, for there's a stretch of London just a little darker without him. I'm sorry I missed it. It was, as they say,
a proper East End send-off
with giant floral tributes, horse drawn carriage, hats off...
Pellicci's is a long-running East End institution. An Italian cafe founded in 1900. Nevio was born upstairs in 1925 and worked in the cafe all his life. The place is well known for its period marquetry interior and magnolia
Vitriolite
exterior. It's also known for its fine breakfasts, delicious home cooking, generous portions, reasonable prices and the fact the Kray Twins used to eat there. And Stephen Berkoff. Back in the day. What I have always cherished it for (besides the lasagne, steak pie and what-have-you) is the the generosity of its staff. It's a place you want to go back to. And you do. The quality of the chat - the ambient sounds of orders taken, jokes made, snatches of conversation from other tables, confidences, betrayals, the characters, the opera - these vital elements sorely lacking in most London restaurants. With his death, something of this city's fabric vanishes, this isn't a voice you will be hearing again.
I was first taken to Pellicci's in about 1986 or so. I won't pretend I was a regular. I've never lived that close - although I'm now significantly closer - but if I can find an excuse to meet someone in the area, it will be the place I suggest. My friend Pearcey who took me had just moved to Whitechapel, part of that initial wave of artists and creative types into the the East End. One of my favourite stories about Pearcey,
a jeweller
, is that he once made a body cast of Kylie Minogue for a crystal dress he was constructing. The process first involved smearing Kylie's naked entirety in vaseline... But, hang on, I'm supposed to be writing about Pellicci's.
The cafe is one of places I always take people who ask me to show them London. A decent breakfast or an early lunch and then walk through the City, along the river or canal, a spot of mudlarking, out east,
Cable Street
, whatever. Forget the Palace or Tate Modern. Nevio would be there in the morning when I visited. He was always immaculate. He once offered me advice on how to tie a cravat. He was, as they say again, a proper gentleman. Of the old school. Not from the world of push and shove, hostile takeovers, covert surveillance. I find it hard to describe the precise art of the cafe proprietor, for along with his son and other family members there, he made it appear quite effortless. It can't be copied, although I'd suggest that many places would be vastly improved if they tried. Say hello, wave goodbye, extend a welcome, how-are-you, patter, human warmth, hospitality without industry. There's not much of it about. Pellicci's is Pellicci's. It's not seeking to expand its business operation, open other branches, self-replicate, sell off the franchise. It is sufficient by itself.
Rest assured, the cafe is not closing. Mother's still in the kitchen at the back, the son and others out the front, I'll be heading along there soon enough to offer my slight condolences among the many others, drink tea, eat steak pie and chips, savour the moments.
I'm not feeling that eloquent about Nevio Pellicci, but there's plenty more to read, see and hear in various other places:
A well-deserved obituary in The Times
A tribute page at Classic Cafes
A short film by
Ali Taylor
: