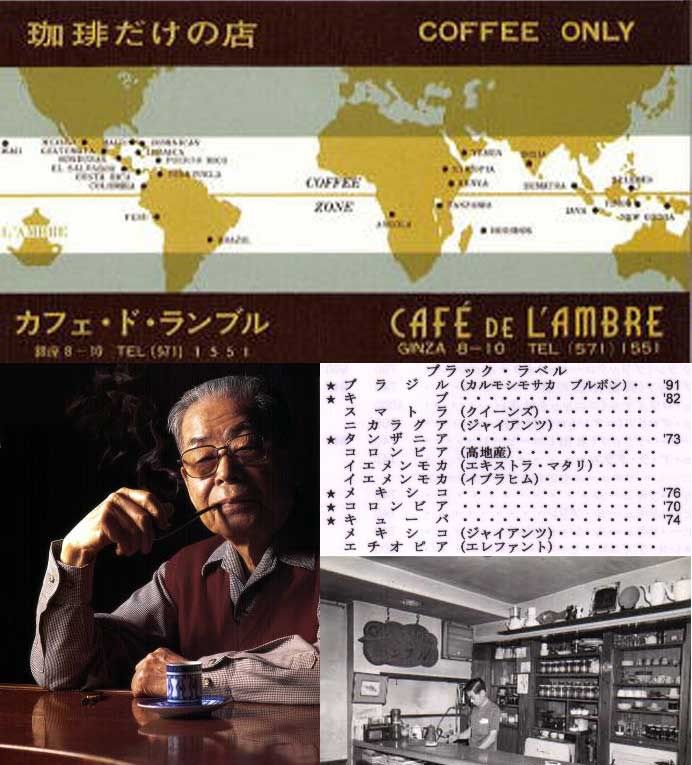 A few months ago, I made mention of the film Café Lumière by the Taiwanese director Hou Hsiao-Hsien. Much of the action (ahem...) in this film took place in sleepy cafés around town. I've been spending much of my time in similar establishments. I call it work, or at least I claim it to be research. Just as the Iwakura mission (pdf) and similar left Japan from the mid-19th century on to discover and report on various matters as part of the country's nascent modernisation programme, I wander around Tokyo visiting coffee serving establishments looking for ideas and inspiration.

Generally, the places I visit will call themselves kissaten (喫茶店), literally a shop where you can drink tea and smoke. Most of the present kissaten date from the post-45 period, but there's still a few around that can claim to have been operating from the Taisho period. Although many of these kissaten are clearly indebted to both a European and/or American model of café or coffeehouse, they are an interpretation of those models and have developed a style very much of their own.

If I walk out of the hotel, I can walk across the street to Tully's, which is one of a number of new coffee chains that takes its inspiration from Starbucks et al. There's a number of these Japanese chains and the growth of this market has done much to put the older kissaten out of business. If you can get a coffee in one of these for 200 yen or so, why would you pay 500 yen or upwards for the kissaten? In many cases the coffee won't be any better for the price hike. These new cafés are generally bright and airy with a wide range of snacks and drinks. The kissaten is typically furnished in dark woods and will only offer limited food options. It's a bit like the British café/caff distinction. You don't ask for a slice of foccacia with your egg and chips in a caff and coffee flavouring at best might be a splash of Camp or a squirt of "raspberry" sauce intended for the ice cream. The new style café will frequently offer a view of the outside world passing by, the kissaten is generally enclosed and private.

So what are you paying for? I'd say primarily you're paying for character. The kissaten is somewhere local and individual. It's family owned and has personal touches all over it, whether that's the personalities you find therein, the music they play or the range of knick-knacks scattered around. It's a more reflective space, where you can take your time and don't have to carry your plastic tray to a disposal area.

Well, those are some rather lazy thoughts at seven in the morning. The links dotted around this post might provide a better range of opinion and similar. I'm thinking this out aloud so far.

Yesterday I visited the café depicted in the photo. "So, it wasn't a kissaten?" Hmm, there's an issue here of nomenclature. No, it wasn't really. As is written, it is a kohi dake no mise, it only serves coffee. It's called Café De L'Ambre and has been operating since 1948. Their site is a wealth of coffee related information, unfortunately all in Japanese. I like this quote from owner Ichiro Sekiguchi I found elsewhere:

"I hate sado [tea ceremony]... It's all about form, and what I care about is flavor. There are still a lot of older people who understand what we're trying to do here, who appreciate the taste we've worked so hard to create, and as long as they're around, we'll be okay. I think we can convince the younger generation that this taste is worth paying for. But it won't be easy, because most of them have gotten used to buying coffee from vending machines and drinking it out of cans. They actually think that stuff is coffee!"

The interior shot taken from the website could just as well have been taken yesterday. They're still using the same icebox and the fittings have not changed one bit. The menu offered a range of coffee options with various styles, but what intrigued me most about the place was the use of aged coffee beans. I decided I'd go for the Cuban '74. I was asked how I wanted it, "Err, whichever way you'd recommend" I replied. "How about the demitasee, black and unsweetened?" was the reply. I nodded in assent. The master (or rather the master's son, I assumed. Sekiguchi père was around the corner in a cubby hole office) set to work. There are no espresso machines, French presses or similar in operation. Heresy! Each cup is made from scratch using a flannel drip method. The beans are selected, weighed and then ground. There's a series of pots boiling water behind the counter and a controlled thin stream first moistens the grounds, Pinteresque pause, then more water is carefully poured over in a precise set of movements to ensure equal coverage. It was finally served in the same design of cup (pre-warmed, naturally) as in the picture shown at the start of the post.

I'd like to write "but the coffee was crap!" at this point. But it wasn't. It was the best of my coffee drinking experiences so far. It's up there with the espresso at Sant' Eustachio il Caffé in Rome, but comparison is pointless of such differing coffee styles. Kissaten can at times tend towards a rather lifeless blend of coffee, for the actual taste of the coffee there is maybe somehow incidental to the larger experience. Here, it was all about the coffee. There were a few other customers customers scattered around. I wandered towards Ginza for a good five minutes, still involved in an aftertaste that was accompanying me all along the way before I realised that I'd left my umbrella behind. I've got some new glasses to pick up in the area on Sunday, I'm sure to return for a cup.