An article in yesterday's Independent suggested that various UK celebrities were less than happy with the idea of ramblers being allowed unbridled access to the coastline. Having forked out several million at least for ownership of private strips of coastline, surely they have every right to exclude the hoi polloi?

Madonna is perhaps the best known celebrity opposition to the Right to Roam, following a dispute over her Wiltshire pile. To this list, we can now apparently add Kate Bush, Jonathan Ross, Norman Cook/Zoe Ball and Jeremy Clarkson. Fucking nouveaux aristos! I thought. If they had titles and strange surnames, it'd be easier to spot them. "Too long I roam in the night!" Kate once sang in Wuthering Heights. How would that story have panned out if Cathy and Heathcliff had been forced to negotiate chain-link fencing and maglite security patrols on their trysts?

What such celebrities publicly claim is that allowing people the right (frequently an ancient right in the case of many footpaths) of access is a threat to their security. Well, what they mean are the nutters and other oddities that are after their blood/underwear/autograph and so on. Are these people encouraged by having access across someone else's property? Possibly, although I doubt they're discouraged by the lack of it. Access or no, the only resolution to such a situation is summoning the police, brandishing a boutique shotgun accessorised by Tom Ford or in Kate's case shouting "Release the Hounds of Love!". Is it that those anoraks clash with a distant arboretum or rather a new iteration of the Great Confinement as the Great Exclusion. You're not on the list, you're definitely not coming on my land. Mad people, unknown people, get away from me! Within the fortress, every sound may be an attack. Expel contaminants, wrinkly skin, death. Control contingencies, anus, the press. Above Madonna's mansion, a giant Aleph floats charged and ready to deal with invaders. Or Quakers.



The record player has been languishing in storage for some time and I brought it back to life yesterday, aiming to convert some vinyl to mp3, at least the stuff I thought worth listening to. Except my record collection, such as it ever was, languishes in an attic in Oxford and may never be seen again. Since I barely remember what's in there, I don't really miss it. What records I do have in the house are a rather random series of charity shop finds and other flotsam. Most of the time I don't bother looking through the records there as I'd have to fix the turntable. Now it is fixed, here's some mp3s in a possibly occasional series of cheap finds from the last few years.

I Believe (The Creed) - Choir of the Church of the Metropolitan Choir of Paris

This one's an 7" on His Master's Voice. I've no precise idea who this choir is and when it was recorded, but I suspect it's Metropolitan Evlogy since he was the only Metropolitan of Paris during that time to my knowledge. That would probably make it the choir from the Cathédrale Alexandre Nevsky in Rue Daru, Paris. As to the recording, it's a setting of the Nicean Creed and very much in the reworked musical style of the late Imperial period as opposed to znamenny and Kievan chant. There's a connection I hear/imagine between this choir and the pre-revolutionary period. It's a strange recording and verging on schmaltzy, in that it has the sound I associate with a Hollywood version of Orthodoxy (say, some scene inserted in Anna Karenina or the like). Is it a man, boy or a woman? Is it recorded at the right speed? Regardless, I can imagine that it's one of the few available recordings of Russian church music in the UK at the time of release.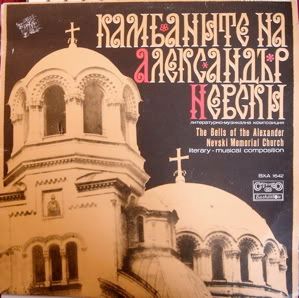 The Bells of the Alexander Nevski Memorial Church: A Literary-Musical Composition

Tebe Poem

I wasn't thinking of the Nevsky connection when I recorded this. Somewhere on the internet, there must be a site devoted to vinyl oddities from the Soviet Union and Eastern Europe. I usually buy these whenever I see them. This album is on the Balkanton label from Bulgaria and includes some useful insights from one Archimandrite Gorazd:

"The St Alexander Nevsky Memorial Church, situated in the centre of Sofia, capital of Bulgaria, is an imposing witness of Bulgarian cultural life, a mastership of architecture, being as well a historic herald of an unfading and bright virtue, characterizing the whole Bulgarian people and their fathomless gratitude towards their Russian brothers-liberators.

Famous chimes are resounding towards the celestial expanse from the exquisite belfry of this temple-monument of Bulgarian liberty, won in 1878. At that, every Bulgarian heart starts beating synchronously with them. The imperious sounding language of these enchanting chimes, descending from the azure vault of heaven, is commending respect to every Bulgarian, as well as to foreign tourists, sojourning as guests. Characteristic historic recollections are evoked at every phase of the consequent chimes, narrating the dreadful tale of bygone times and events prodigiously survived by the Bulgarian nation during its five centurues tyrannical oppression on the part of a cruel conqueror ["The Turk"], contributing thereby to make everybody as clear as the bright day its deepest thankfulness and highest confidence in Russia, its liberator."

Slava! They don't write them like that anymore and I suspect current Bulgarian archimandrites no longer need to. The Literary-Musical Composition is a recording of various bell ringing styles accompanied by uplifting patriotic snatches of poetry and other commentary. I don't speak Bulgarian, but I get enough of it. As anyone who has stuck with Tarkovsky's Andrei Rublev to the end knows, bells have a particular, err, resonance in Orthodox church culture. To an English ear more used to sweeter bell styles, they can be rather a rude awakening. What's refreshing about Orthodox bells is that they don't really aim for equal temperament so there's a stronger sense of harmonics and dissonances and no use of melody. There's certainly great sampling opportunites to be had from them.

Tebe Poem (To You, a Poem?) sounds rather like a cranky mellotron in parts. I've played other similar records and there doesn't seem to be such a pronounced wobble on the pitch. It may be the pressing, I don't know. I suspect that this piece (and the second side) are possibly the real reason for this recording, that is, an chance to release a record of Orthodox liturgical singing in exchange for the patriotic sentiments extolled in the first piece.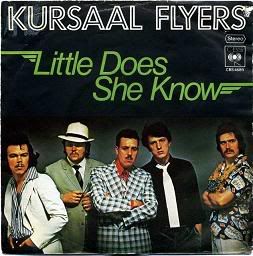 Little Does She Know - Kursaal Flyers

The Kursaal Flyers were one of the leading exponents of the British pub rock scene. Vocalist Paul Shuttleworth and pedal steel/guitar player Vic Collins currently play in a band called The Ugly Guys. I think Vic Collins (who looks rather like a cuddlier Harvey Keitel) is an outstanding steel player. Not super flash, just putting the right notes together in the right order and with the right feel. This single though is not really in the post-Burritos way of things. It's produced by Mike Batt who I chiefly remember for doing The Wombles and these days is responsible for Katie Melua. Hmm... I don't like this record, it's just that I remember it! The "little does she know..." hook is really strong, but the rest of it, such as the lyrics... I guess the Flyers were exploring newer/bigger sounds. As Mike Batt kicks the orchestra into the overblown instrumental section to the vision of this woman dropping her clean underwear, I fear some something rather amiss is going to occur.




Da Da Da (Deutsche Version) - Trio

Needs no explanation, particularly if you ever owned the above keyboard.