Steve Harley, of Cockney Rebel (fame?), is apparently no friend of the gypsy. His thoughts concerning recent changes in baggage airplane regulations aren't exactly revelatory either. For a while, it seemed as if you wouldn't even be able to buy a book portside at the airport and despite the increase in flight boredom being without reading material of your own choice, I could imagine those retail areas closing up. Never mind the Four Horsemen appearing, the cessation of retail activity is what would persuade many people that the end was nigh. No shopping, soon enough no smoking. Only a containing warren of halls and corridors for observation systems to crunch the numbers and faces before you board the flight. Faces pressed against the glass, peering in at dusty malt scotches, cardboard promotional cutouts of Kelly Osbourne, outsize Toblerones. "This, my son, was England." Past Times as our sealed Blue Peter time capsule. Soon enough, you'll need to piss into a detector before boarding, either for sampling purposes or to guard against the danger that when two urines [sic] are mixed they might just form an explosive precursor chemical. As the two men of Monarch ZB613 discovered recently, make sure you don't do anything unusual when flying, like repeatedly looking at your watch and wondering just how much longer any of this is going on.



Because of this:

Sebastian - Steve Harley

I'm not at all sure just what the concensus on Cockney Rebel is these days. I'm not sure it matters. Bowie and Bolan have fared better. The first two Cockney Rebel albums (The Human Menagerie and Psychomodo) I used to own as a double album reissue and my memory of them is still favourable. This single is maybe the only childhood record remaining. How I came to own it, I don't really remember. I guess I must have asked for it at the age of seven. Maybe my dad liked it on the sly. Although I can remember having plenty of pictures of David and Marc in my bedroom that I'd taken from my sister's magazines, I'm not sure I actually had much of an idea what their music was like. It was the look rather than the sound. My favourite record of the time was the soundtrack to Dougal and the Blue Cat. That was disastrously warped in the hot summer of '76 and I'm still waiting for someone like Trunk to re-release it.

Perhaps somebody is able to defuse what Harley is going on about in the lyrics. I'm sure it's not absolute nonsense, at least to Harley, but this isn't a song that has any apparent lyrical meaning to me, other than as a celebration of indecipherable bombast and production excess. The orchestral arrangement is by Andrew Powell who later produced the first two Kate Bush albums. This song makes me feel like I've come up to London on an AwayDay ticket and collapsed in the toilets at Biba following an early foolhardy experiment with mandies. Somebody called me Sebastian! But why, who, what? I don't know, I'm only seven years old and I eat Spangles rather than wear them.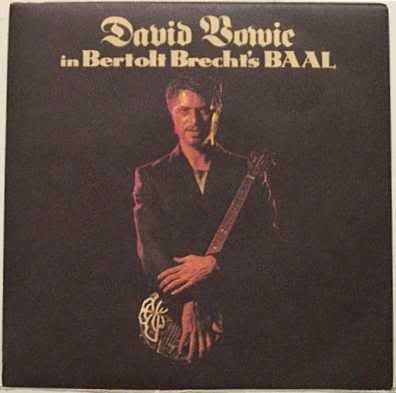 David Bowie in Bertolt Brecht's Baal (zip)

Reading Momus at Click Opera this morning, he mentioned "David Bowie with no eyebrows singing Brel songs about death". Well, this isn't such a recording. I misread it as Brecht. No eyebrows and Brecht? I couldn't place the time period. Oh, it says Brel. Anyway, this five-track EP is drawn from a production of Baal that the BBC made with Bowie in the 80's. I think two of these songs have resurfaced on a compilation, but not the whole EP. There's a You Tube video for Drowning Girl, but someone has put up the first ten minutes of the production itself:



Apparently, I'm off to Berlin in a couple of weeks for a long weekend. Amidst the nostalgia of old records all I can say about previous experiences in Berlin is that they all occurred before the wall came down. I took the trip across from the West on the train a few times and the journey through East Germany always took place at night. What did East Germany look like? As if there was no light. However, when I took the train from Krakow to Berlin (Lichtenberg), the lights of East Berlin seemed incredibly exotic and well-to-do after Poland. Wow! Neon! Shops that promised actual products that could be bought.

Somebody a few doors up is singing "Simply The Best" very loudly on a home karaoke setup.