This morning I was starting another baleful attempt at transliterating and translating titles for a double CD of songs and poems by Terayama Shuji when an internet search threw up an album cover. An album by Nosaka Akiyuki (longer Japanese version) His face rang a bell, if faces do ring bells rather than some other object. I wasn't sure what the Terayama connection was, but I had a look around. First up was this advert for Suntory whiskey.



Next was this appearance (Nozawa is the bloke on the panel who starts piping up at the end) on a show fronted by the ubiquitous Takeshi, a "discussion" between Nirasawa Junchiro (believes) and Otsuki Yoshihiko (doesn't). About UFOs and aliens as far as I can work out. I could once follow this sort of thing rather more easily. Practise, practise, it will come back, I say to myself. There's more here. Sort of.



What was the clincher was this track "Marilyn Monroe No Return".



As this truncated video translates:

This world is coming to an end
Dusk is descending on this town, that town
This bitter-sweet feeling I have in my heart
What would you do if you were in my place

Okay, now I'm intrigued, but I still couldn't place him...

Oh, he's that bloke! Nozaka Akiyuki is probably best known as the author of Grave of the the Fireflies, which was later made into an anime, as well as The Pornographers which was later filmed by Imamura Shohei. Oh, him! Nozaka is known as one of the yakeato sedai, the generation who came of age during the immediate postwar period. I'd read this! Saves me time (Hmm, reading it myself and looking elsewhere, I read that article's main subject, Oda Makoto, died last year). According to this Japanese wikipedia entry on various Japanese generations, it's those born between 1925-1941.

Looking further, I find a post on a Taiwanese blog that gives a download link for a 1973 (?) live recording by Nozaka called Fujori no Uta (不浄理の唄). Original cover here. Well, 不浄 means impurity, uncleanliness, dirty. As for 理, that's reason, principle, logic. Neverminding what ri means in Confucian philosophy. Songs of what exactly? Miwa Akihiro turns up for a bit too. All looks good. Here's a transliteration of the titles since it's seems to be in some tricksy Chinese encoding or another: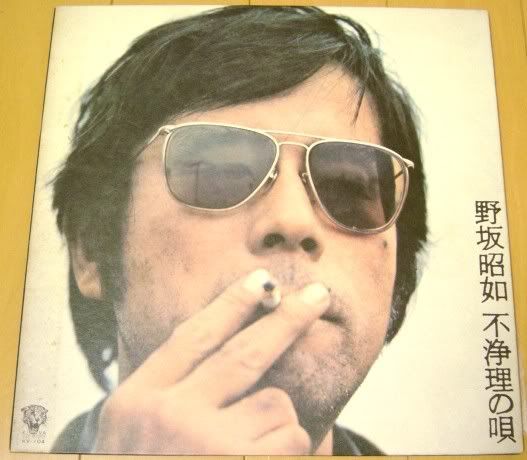 1. Bonbo no Uta (I don't know what bonbo is, dialect?)
2. Nozaka Akiyuki Bensetsu (Speech in Local Dialect)
3. Hoshi no Nagere ni (Miwa Akihiro)
4. Miroru (Miwa Akihiro) (It's the song "Milord" by Georges Moustaki, as sung by Piaf)
5. Nozaka Akiyuki Bensetsu (More of above)
6. Kuro no Funauta
7. Spring
8. Summer
9. Autumn
10. Winter
11. Bye Bye Baby
12. Virgin Blues
13. Marilyn Monroe No Return
14. Tejime (more info of sorts!)

The music for songs 6-13 is by frequent musical collaborator Sakurai Jun and the lyrics for all (except Bye Bye Baby which are by Yoshioka Osamu) are by "Nokichi Kirihito" which, I think, is actually a penname of Sakurai Jun. It's not clear from this list whether Nosaka ever writes any of the lyrics, maybe he's Nokichi. There's a text file in the folder with the Japanese titles and some notes.

Some might know Virgin Blues from its later cover by Togawa Jun.

Apparently Nozawa had a severe stroke in 2003 and his own site says he's still in recovery. I presume it would be rather insensitive to wander past his house singing "Nozawa Akiyuki No Return". He certainly nailed the moody and disenchanted sunglasses with fag look.